"Thank you - I love it!"
David Walliams, London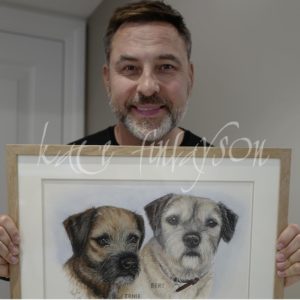 "I am so grateful for the portrait of Peggy, you have captured her perfectly! You have a wonderful gift."
Miranda Hart, London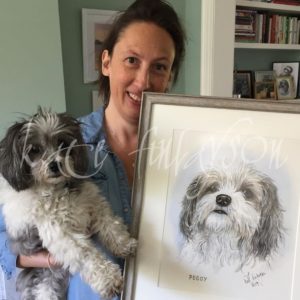 "Kate captured the perfect likeness, character and essence of 'Dobby', my husband's beloved hunter. She took so much time and trouble resulting in a magical painting, which brought a tpear to the eye of the owner. I can't recommend her more highly, she's a fantastic artist."
Moo W-S, Dorset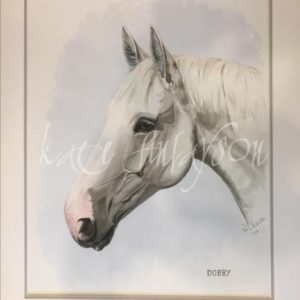 "I was so surprised, Thor's portrait really is so wonderful. You are a true talent Kate and I'm so pleased to have a lasting portrait of my boy that looks exactly like him. You are amazing x"
Peter Fawbert, Somerset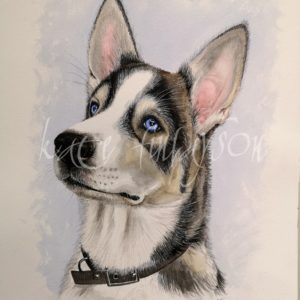 Kate has painted both of our gorgeous dogs at different times of their lives and we cannot recommend her highly enough. Not only do the portraits capture Boris's and Georgie's physical likeness but they capture so much of their spirit too, which is no easy task. The quality of Kate's paintings truly brings them to life and whilst Georgie is sadly no longer with us, she is now forever immortilised in watercolour. We were particularly impressed with the portrait Kate painted of Boris as black dogs are always more of a challenge to paint. Kate, however, managed to capture all the tiny details of his rather unusual copper highlights! The whole process from start to finish was incredibly easy and painless as well as being enormous fun as Kate is an absolute joy to work with.
Sophia and Dominic Tayler, London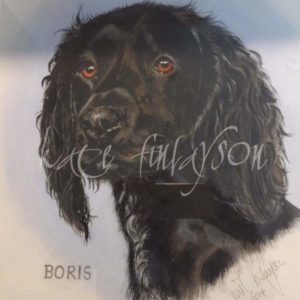 We have just opened the portraits of Boris and Hubbell, we wanted all five of us to be here for it. I cried with delight, we are all thrilled and in awe. You've done it - more than we could possibly have hoped for. The likeness is uncanny and the best Christmas present we could have given each other. Thank you!!
Virginia Hoddinott, North Yorks
Kate painted my favourite hunter many years ago and it still has pride of place in our dining room. I love the Snaffles-esque sketches of me jumping huge hedges underneath. She even put my lower leg in a better position!! I hope to get my current boy painted for this year's birthday present!
L.M. Suffolk
My wife commissioned Kate to paint my portrait riding Winston, my parade mount, on the Old College parade square at Sandhurst, and we remain delighted with it 13 years later. It remains a central feature in our home and is often commented upon by our guests. Her focus on the relevant details and her patience observing Winston tolerating me completely paid off. I wouldn't hesitate to recommend Kate, and spend my time trying to convince my wife that I have done something magnificent or worked somewhere equally iconic so I deserve another portrait painted by Kate. I live in hope.
Nigel Jordan-Barber, Mali
Kate has done such a fantastic job of catching the spark of both our racehorse and one of our dear cats. A truly talented lady!
Sally Bagwell-Purefoy, Somerset
Kate painted my beloved terrier Dorothy last year. Not only did she brilliantly capture her likeness but also her personality. It is an extraordinary painting and I absolutely love it.
Clare Ellwood, London
Kate's portrait of our Springer Spaniel, Missie, is a fantastic likeness which captures her character in a way that it is a wonderful reminder of a much-loved friend.
Fay Watson, Somerset
Kate painted a lovely portrait of our very lively English Springer Spaniel as a surprise 60th birthday present for my husband. Kate was very patient with her sitter who didn't sit very still! My husband was absolutely thrilled with the painting which captured our much loved dog perfectly. Thank you so much Kate.
S.M. Dorset
I'm thrilled to say your portrait of Buzz has arrived and it's brilliant. You've done what my daughter would say in modern social media speak as #nailedit! I can't thank you enough.
Edward Benyon, Berkshire
You are such a talented artist Kate. Your portrait of the kids still hangs in my home 18 years later!
Patricia McGarr, Wellington, New Zealand
I totally love my painting of Billy, it's my present for life! I have some friends over and they are all saying how amazing it is! I absolutely LOVE it!
Tilly Everard, Belgium
We are so thrilled with Martha's portrait. While there are no end of artists creating pretty pictures, I am not sure there are so many that are able to capture the mood and character as well as you have. You know exactly what she is thinking from the expression you have painted! It is so much more than a two dimensional picture.
Rupert Delamain, Somerset
Just perfect Kate, thank you! We couldn't be more thrilled.
Mark Smith, Devon
Thank you Kate for the most fantastic portrait of Monty. You have perfectly captured his looks and character. A great piece of work, we just love it!
Sarah Pittman, Warminster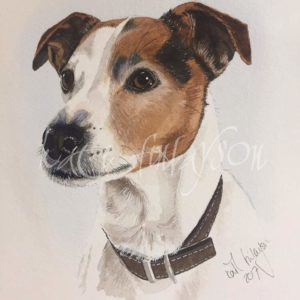 My mother just burst into tears when she saw your portrait! We all absolutely love it, thank you. I love your paintings but didn't expect you to capture her quite so beautifully. I don't know how you've managed it but the painting is actually better than the photo!!
Jane Norman, Germany
Miss Molly's painting has been with us from Oman to Jakarta to Kuala Lumpur. It is now hanging pride of place back in Sydney. Thank you so much for such a beautiful reminder of our beloved Molly.
Debra James, Sydney
Anyone looking for a portrait of any animal couldn't do better than Kate! She has totally captured not just the look of my dogs but their characters too. I was blown away by the likeness, very good indeed.
Richard Freeman, London